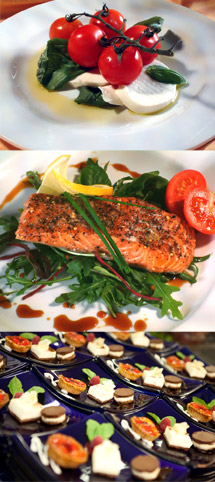 photography by Klak Klak
Excellent food deserves excellent service; blackberry cuisine offers you the whole package.
Your choice of venue…
Whether you are planning to hold your event in the beautiful surroundings of Glencorse House, or have a different venue in mind, our outstanding customer service and delicious, innovative food will ensure the perfect experience for you and your guests. Find out more about Glencorse House and our outside catering service.
Your choice of food…
Only the freshest and best ingredients go into the food we prepare, it's something we are truly passionate about and it's what makes the difference between good food and great food. From that starting point we can tailor everything to your tastes and requirements, offering our own expert advice and menu suggestions. Chef Paul McLeman has catered for an impressive list of high profile events, famous clientele and blue chip companies, so you can be sure that your food comes with excellent credentials. Find out more about our tailor made menus.
Your choice of service…
We aim to create precisely the atmosphere you want for your event, so attention to detail and careful planning are essential elements of our service. Our experienced team are attentive, well presented and professional in any setting be it formal or informal. Whatever the nature of your event, our finishing touches ensure that your guests will leave feeling well looked after. Read some comments from our satisfied customers.
Your choice, our expertise. It's the perfect combination for your perfect day.